Thinking about moving your phone system to the cloud? Breaking down the services, pricing and features of a
SIP Trunk
phone system will enable you to partner up with the right provider, and decide on the appropriate plan to best suit your office and business. Breaking down the pricing into its key components will help you to understand how you can maximise the services available through a SIP Trunk and how it can improve the overall system of your phone connectivity.
Just through making the switch to a SIP Trunk, you immediately unlock valuable benefits, including:
Lower overall costs.
Better Security.
Flexible bandwidth allocation.
Increased service management.
Superior voice services.
Sophisticated interconnection.
How much does SIP Trunk cost? The answer to that can vary, with factors that depend on your chosen plan, the equipment you use and the monthly service fees. Choosing a SIP Trunk provider that offers flexibility in their plans, pricing and systems of operation will enable you to get the most from your phone line. By reducing and regulating costs, offering competitive packages for international calls and allowing you to carry over your existing phone number, an established SIP Trunk provider can maximise the efficiency of your office space.
Breaking down the main components of the costs associated with a SIP Trunk phone line system are the first steps in understanding what is going to work for your business and how you get the most value from your phone system.
Here's what affects the cost of a SIP Trunk and where you can maximise the value in its pricing:
If you're looking to make the switch to SIP but you're not entirely sure what the specific requirements of your business are just yet, a plan without a contract or set up fee is the best way to go. This type of plan is considered a 'Pay as you go SIP line' and will provide you with set pricing for your SIP lines, local calls, national calls and mobile calls so you can track your expenditure and create budgets for the future based on the data of your monthly usage.
If you are looking to take the guesswork out of your telecom bills, a SIP Trunk plan that is capped can offer you an easy and straightforward solution for your larger office and business needs. Making business scaling easy , a capped plan can provide you with a straightforward and concise solution for your phone line system, which will include local, national and mobile calls in the monthly fee, as well as a set price for your SIP line.
Each of these plans offers you the opportunity to maximise the value of a SIP Trunk phone system, they skillfully integrate the appropriate costs and user needs of your office space so you can focus on growing your business.
Choosing a SIP Trunk provider that offers compatible hardware and software with their plans is a great way to maximise value and effectively manage the pricing of your switch. Making sure you have everything you need to get your new phone system up and running not only gives you peace of mind in the set-up and transition but also offers you support and security throughout the process.
3CX SIP software offers you unparalleled security and compatibility within a range of different applications, including Office 365, WordPress as well as Call Flow Designer. Through the implementation of the correct accompanying hardware, you can maximise the efficiency of your SIP Trunk system, through the use of compatible SIP phones, conference phones and corresponding headsets you can maximise the value of your phone system and server.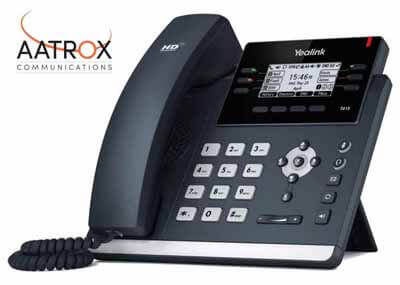 If you are considering converting to a SIP Trunk system but you're still unsure of the plan best suited to your business requirements, give the team at Aatrox a call. Our experienced and friendly team can talk you through our pricing plans and discuss how we can maximise the growth and productivity of your business while offering you unbeatable pricing solutions.