New Zealand's Preferred SIP Trunking Provider - NZ's Best SIP Pricing Right Here
Here at Aatrox Communications, our SIP trunking plans are available for businesses of all sizes, New-Zealand wide.
Get in Touch
View Plans
With excellent SIP Trunk pricing, at Aatrox Communications we are New Zealand's preferred SIP trunking provider, delivering specialised internet connection services for small and large businesses. Our team can simplify your telecommunications services, helping your business excel by getting you better connected.
Our work for the business phone system through SIP trunking will be an excellent addition to your company, offering greater functionality, reliability, and affordability than traditional phone lines. View our SIP trunking plans for businesses, and start motivating change for the benefits of SIP trunking today.
All business sizes and characteristics benefit from functionality and cost savings offered by SIP trunking. Enterprise-grade SIP trunks we utilise are configured to work well with all major IP PBXs, while our team is proudly certified as a 3CX SIP trunk provider.
In partnering with Aatrox Communications, you join a local New Zealand brand and are serviced by a friendly team, always ready to help.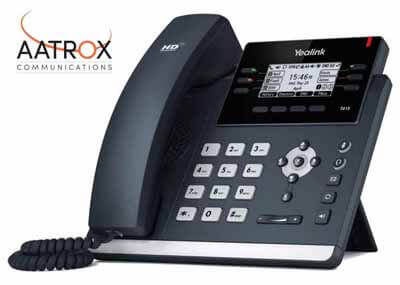 SIP Trunking NZ
Session initiation protocol or SIP trunking NZ is a signalling protocol that initiates, maintains, and ends multimedia sessions. As a SIP trunk provider, we empower our clients by removing the requirement for physical phone lines and using IP (Internet Protocol) to stream telephone services and unified communications for your business.
Make a purchase from our internet telephony service provider for SIP trunking, and we can connect the two domains of the unified communications network, between the private and public domain, the network part that offers access into the public switched telephone network PSTN and the public land mobile network PLMN.
We are committed to making life easier for local NZ customers with 3CX VoIP Providers and more useful products.
Servicing Businesses NZ-Wide
Our reliable SIP trunking service extends across New Zealand, bolstering existing internet connectivity with excellent network infrastructure to meet business needs. When seeking advanced telecommunications services through internet connection for simultaneous calls, long-distance outbound calls, many outgoing calls or inbound calls at a time through each SIP line and more, we make the process simple when meeting with our SIP trunk provider.
After ordering a SIP trunk from our team at Aatrox Communications, we simply send through a URL, authentication information, and number which registers you to the SIP trunk. You can configure many options for routing, number masking, codec usage and so on to make the most of your SIP trunking.
Our team is always available and eager to help get you sorted and ready to go with a new SIP trunk.
Cost Effective
We believe our SIP trunks offer the best value in New Zealand, helping local businesses save money when equipping their call volume, unlimited channels, and more. We excel at delivering premium phone systems for small businesses, reducing phone bills, free calling between remote offices, and competitive SIP trunk prices.
With multiple plans and options, you can select the most sensible choice for your needs, enjoying our products without breaking the bank.
Reliable
Offering excellent reliability, our SIP trunking services provide low latency and are fitted with measures to protect your business when encountering potential issues, such as mobile failovers and hosting of the SIP trunks across multiple servers.
Our SIP trunking providers are consistently available to offer support that will answer your concerns and remedy any issues. Get in touch today and begin formulating a plan for your business's SIP trunks.
No Physical Infrastructure
One of the excellent benefits delivered by us as a SIP provider is not requiring physical infrastructure, where the scalability of your business excels by not having difficulty when adding a line, ensuring you don't have to stress about how many concurrent calls can be functioning.
Additionally, with no geographical limitations, the process of SIP trunking is much simpler than traditional phone lines.
Functionality and Flexibility
With an SIP trunk, you can extend the number of lines for phone calls with ease and re-route the SIP phone number to different geographical locations. Additionally, we have invested in infrastructure for improved communications through great voice quality, reliable calls, and instant messaging capacity.
Our unified communications suites interaction through SIP trunking streamlines business functions, where SIP channels can be removed or added easily. Through pay-as-you-go SIP lines, you can start with SIP trunking without overpaying, giving it a go.
Contact Our Team Today
Please contact our team to enquire regarding our SIP trunk services today by phoning 09 242 0880 or submitting a query through our online form.
We are a friendly, responsive team who excel by delivering premium quality products and excellent service, answering phone calls to remedy any issues. Additionally, we hope to inform potential clients through our frequently asked questions page, filling in any regular queries to get you set for easy product choice before calling our team.
Pay As You Go SIP Lines
Whether you're ready to make the switch to SIP and aren't sure where to start or know precisely what you want from your service, our Pay As You Go SIP trunking plans make it easy to start with SIP trunking.
Read More
The advantages of our plans include:
Drastically reduce the costs of your calls
Take advantage of modern features like video calling
Use your existing number from anywhere in the world, on any device
Cheaper long-distance and international calls
No contracts or set-up feesWith no barriers to entry, our Pay As You Go SIP plans are the perfect way to start saving money on your business phone system.
Special Offers
10+ Concurrent Calls
Aatrox Communications offers competitive pricing for companies making 10+ concurrent calls.
Not-For-Profits and Charities
We provide custom pricing for not-for-profits and charities within New Zealand.
Capped SIP Lines
If you're looking to simplify your SIP trunk pricing, we can help you take the guesswork out of your phone bills with our capped SIP trunk plans.
They'll help you predict your monthly telecommunications expenses, making it easier for you to plan your business' financial outlay.
These plans are best suited for businesses with high numbers of incoming and outgoing calls, such as call centres.
The Aatrox Communications NZ Reseller Partner Program
If you're looking to resell VoIP and SIP trunking services to end-users, our wholesale partner program can help you. It offers an exciting variety of features, including:
Add VoIP to your service suite
Voice and unified communications are a critical part of modern IT solutions. Expanding your services has never been easier than when you partner with us.
White-labelled SIP
Make your SIP trunking and VoIP solutions your own. Your customers never need to know we exist – but you know that our technical support teams are there if you need us.
Attractive Margins
Set your own prices, create custom bundles, and make SIP trunking work for your services offerings.
White Label SIP Trunk Provider
Aatrox Communications offer wholesale SIP solutions to service providers New Zealand-wide. We work closely to provide you with tailored support and tiered pricing plans, which means that when your business grows, your savings do, too.
As a certified 3CX partner, all of our SIP trunks are configured and tested for compatibility with their systems. But if you'd prefer a different PBX provider, don't worry. Our SIP trunks will work with all popular IP PBX platforms.
All our wholesale VoIP services are white labelled. Alongside our simplified billing, this makes it easy for you to re-brand, mark up these offerings, and send them on to your end-users.
Transform Your Business with an SIP Trunk in NZ
Quality SIP trunks are a great way to elevate your telecommunications to the next level.
There's a good reason why SIP is becoming increasingly popular among corporate clients. SIP Trunking allows you to connect your business phone network to an internet provider. This enables you to make and receive calls over the internet.
That means that you get a scalable, convenient, cost-effective alternative to traditional business telephony. You'll get greater functionality at a much lower cost when you make the switch to this tech-forward alternative.
Best of all, SIP Trunking allows you to easily increase or decrease capacity without complicated technical changes – or expensive technician call-out fees. You can add or remove phone lines with nothing more than the click of a mouse. That's why SIP is ideal if you're after a system with the ability to scale and evolve as your business grows.
Do you need a provider to take care of your SIP trunking needs in New Zealand? Give the Aatrox Communications team a call at 09 242 0880. You'll soon see why we're Australasia's preferred provider of SIP trunking solutions.
The Benefits of SIP Trunking
Connect with customers worldwide and make your engagements go global. When you use SIP trunking, your international calls will be routed through a high-quality, global VoIP network. That means excellent call quality at affordable prices.
Unlike traditional phone lines, you can set up SIP and VoIP networks with no installation costs or fees. That's because all the infrastructure is hosted off-site – so all you need is a reliable internet connection.
Embrace the future of real-time telecommunications with our SIP trunking offerings. You'll get to drive down the cost and complexity of your calls and unlock the value of these future-forward technologies.
No matter the size of your business, you'll have enterprise-grade services at your fingertips. Set them up and manage them using a convenient self-service interface to create a solution perfect for your business.
The Future of Business Telephony
Traditional phone lines have remained mostly unchanged for decades. Say goodbye to high long-distance fees and systems that are difficult to scale. The future lies with SIP.
With accessible insights, superior calling quality, and easier management, you'll get excellent telecommunication functionality with the flexibility needed for the ever-changing world of modern business.
Connect with your clients, contractors, and employees no matter where in the world they are. SIP Trunking helps you work faster and better.
Lower Monthly Fees
As all the infrastructure needed for SIP is hosted off-premises, it is far cheaper to set up and install SIP Trunking compared to traditional phone lines. You won't have to get technicians and electricians in to lay actual copper wiring, nor have bulky physical systems taking up valuable office space.
Plus, because your SIP system runs off your existing data network, you won't have to pay a separate monthly bill just for your phone lines. You'll get to save money that you can then put towards what's really important – growing your business.
Enhanced Scalability
SIP channels make it extremely easy for you to add extra capacity to cope with increased call volume. You won't need to pay for your telco to send someone out to make physical changes every time you need a new line.
All you'll need to scale capacity up or down will be a simple click of a button. Make changes at your leisure with a convenient, user-friendly control interface.
Number Porting
Because SIP lines aren't fixed to a geographical location, you won't have to print new business cards or update your customers every time you move your office. Keep your existing numbers with number porting functionality.
You can also set up local numbers abroad, even if you don't have a physical office in that country. Grow customer trust when you enter new markets and make it easier for your consumers to contact you, wherever in the world they are.
Lower Calling Costs
Reduce your calling costs with SIP Trunking. You'll be able to significantly reduce your spending on both local and international calls, which will make an incredible impact on your business' bottom line. Best of all, you won't have to make any compromises on service standards.
You'll also get to cut down on the costs of infrastructure and maximise the return on your investment in data bandwidth by combining voice and data services on a single connection.
Improved Voice Call Quality
Because your calls will be delivered over ultra-fast broadband when you use SIP Trunking, you'll benefit from call quality and reliability that's equal to, if not better than, what you get when you use a traditional phone network.
Dropped calls or poor voice call quality can damage your reputation and frustrate your customers. With this high-quality, reliable alternative to traditional telephony, you'll be a more trusted provider of solutions.
Enhanced Functionality
With SIP Trunking, you'll get incredible off-the-shelf functionality and enterprise-level features, no matter the size of your business. These include call recording, hold music, videoconferencing, and even call centre features.
With free 'internal' calling between remote users, your New York office will no longer struggle to get in touch with your staff in New Plymouth. Reduce your costs while keeping your employees connected and business moving as it should.
Integration
Many SIP trunking systems quickly and smoothly integrate with multiple existing applications, CRM tools, and other common productivity-boosting tools. When you implement SIP trunking for your business, you'll get to keep your employees connected to the tools they're familiar with. Keep productivity high and maximise the return on your software investments.
Business Continuity
When you establish SIP trunking for your business, you'll have the tools you need to keep connected and work well remotely. That means that if something were to prevent your staff from accessing the office, whether a fire or a natural disaster, your business won't have to come to a standstill. Keep work going, no matter where you might physically be.
In addition, these networks feature failsafe features that make them a secure choice if your customers have critical sites that need to be up and running all of the time.
Are you ready to embrace a cost-efficient, high-performing, flexible telecommunications service that you can manage anywhere? Our SIP Trunking systems are the right tools to get your business working better. If you'd like more information or a quote, please contact the Aatrox Communications team at 09 242 0880 today.
Frequently Asked Questions
How do I use a SIP Trunk?
When you order a SIP Trunk from Aatrox Communications you receive a URL, number, and authentication information.
On your PABX or device you enter these details, which allows the SIP trunk to be "registered" to you.
That's it!
Calls made to the numbers assigned to your SIP Trunk will be routed over your SIP Trunk, and you can choose where and how they are treated from there (for example ringing a single handset, going to voicemail, or using something like a call queue, hunt group, or IVR).
Note: To get the most out of your PABX and SIP trunks you may choose to configure plenty of different options for routing, codec usage, number masking, and so on.
We're more than happy to have a chat with you about your specific requirements.
How many calls can a SIP trunk handle?
A SIP trunk is made up of a number of SIP lines or SIP channels. Each SIP line can handle one call at a time, either incoming or outgoing and including calls placed on hold. 
Learn more about how many SIP trunks your business may need.
Are Aatrox Communications SIP Trunks expensive to implement?
Every deployment is different, but with Aatrox Communications SIP Trunks we've helped many companies reduce their phone bills by up to 60%.
Our SIP Trunks should reduce both the fixed infrastructure portion of your bill, and the call cost portion.
How do Aatrox Communications SIP Trunks compare to others?
We believe that our SIP Trunks represent the best value available in Australia.
We have worked hard and invested in our infrastructure to ensure that our call quality is excellent and extremely reliable, and in our team to make sure that there is always a highly skilled engineer available to answer your call.
All of our infrastructure is in Tier 1 data centres within Australia to provide the lowest possible latency (learn more about our infrastructure) and all of our team is located in Melbourne and Sydney.
We're consistently told that the support we provide is second to none.
Feel free to stop by for a visit!
How much expertise do I need to get started with VoIP?
You need to be comfortable setting up and managing your PABX.
Aatrox Communications can provide assistance with SIP Trunk registration and compatibility – but ultimately you are responsible for running and configuring your PABX.
If this is not something you're comfortable with, give us a call – we work with some great Hosted PABX providers that we're more than happy to put you in touch with.
Latest Posts
Stay up to date with the latest in VoIP, SIP trunking and unified communications with us.
Aatrox Communications is an New Zealand owned and operated full service SIP trunk provider. We specialise in connecting the traditional telephony network to the internet for small and large businesses.